About this class
STAMPING has become my favorite obsession! I LOVE everything about the endless possibilities that each stamp set holds! When you understand how to get the most out of your stamps and inks, you unlock the limitless combinations of composition, color, and creativity! Your stamping becomes center stage on all your projects from birthday cards for besties to elements in your memory planner… plus ANY and EVERYTHING in between! Every stamp is happiness that can be impressed over and over! This is exactly why it's worth taking the time to learn how to make your stamps work for YOU! That is what this class "STAMP THERAPY" is all about. Whether you consider yourself a freshie to the fun, or a super stamper already… these lessons will offer you new eyes for successful and confident use of all your stamps!
I'll see you then!!
Stamp Therapy students will receive the exclusive 6x8in stamp set pictured below free with purchase of the class. It will ship to you free, no matter where you are! This set was designed by Heidi to use as a starting point for the techniques she'll be teaching in class.
Heidi Swapp
read bio
About Heidi Swapp
Heidi Swapp is a storyteller, craft and decor designer, creative instructor, author, and speaker who firmly believes life doesn't have to be perfect to be wonderful. Her favorite job is that of wife and mother to five children, ranging in age from young adults to elementary school. She started connecting with audiences worldwide in 2000 through scrapbooking magazines and events, later sharing her passion for memory keeping through blogging, social media, and her signature line of creative products. Her large online audience rallied around the Swapp family when their oldest son, Cory, took his life in 2015 at age 16. Throughout this unbearable ordeal, Heidi has continued to share and connect, becoming an advocate for suicide prevention through community events and the Light the Fight podcast. Heidi's work can be found on heidiswapp.com, @heidiswapp on Instagram, and facebook.com/heidiswapp.
15 lessons
Learn lots of tips and tricks to take your stamping to the next level.
3 Hours 30 Minutes
It will take you about 3 and a half hours to watch the videos, then plan on spending countless hours practicing and mastering the art of stamping.
Self-Paced
Go at your own pace! All lessons will be available at once, so you can work through the class content on a schedule that works for you.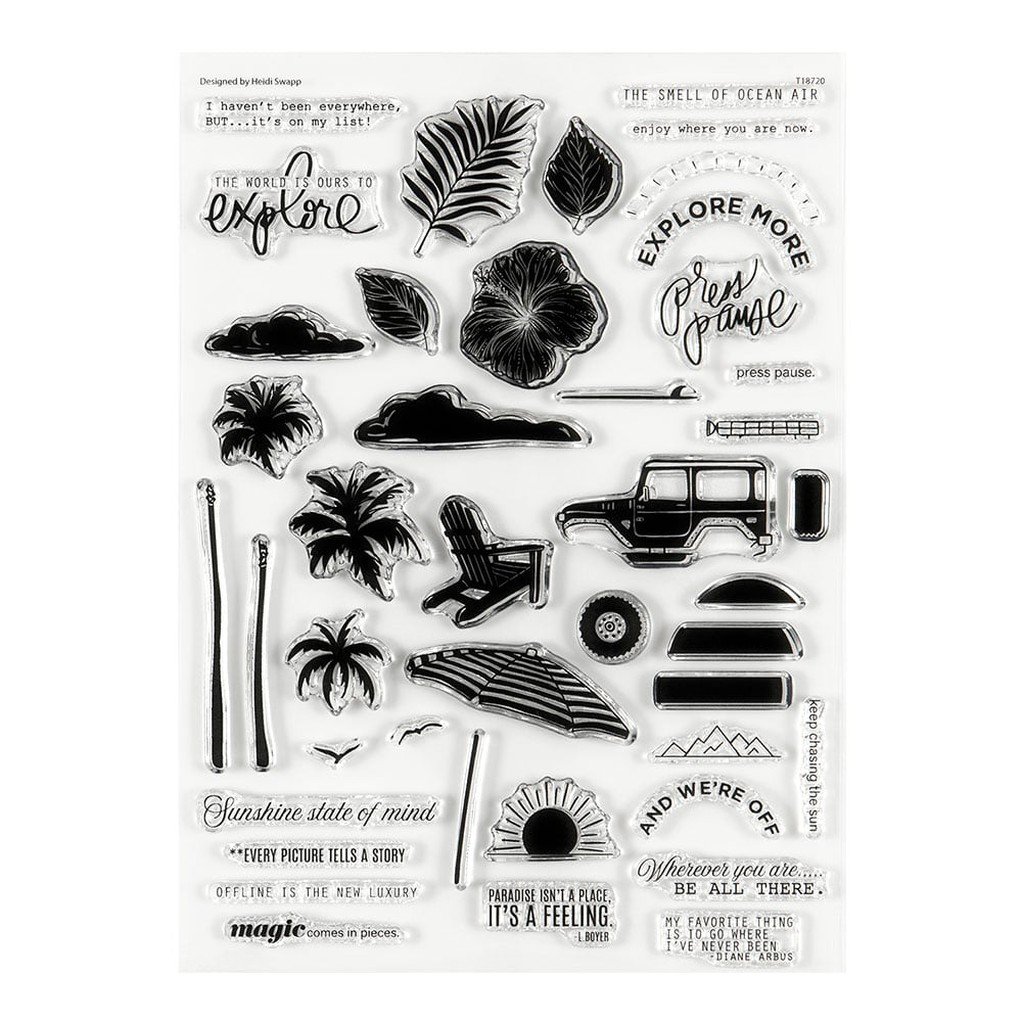 Class Kit
---
---
Class Lessons
01: Tools + Tips
Heidi shares her favorite tools of the trade and what she'll be using throughout the class!
02: Stamps & Inks
Learn more about the different types of stamps and inks!
03:Three P's
Learn all about the 3 P's—positioning, pressure and practice!
04: Buildable Stamps
Learn how buildable stamps work and try out a few examples with the class stamp set!
05: Echo Stamping
Stamp repeatedly without re-inking to add layers of color and dimension!
06: Mixed Inks
Level up and add multiple layers of color onto one stamp!
07: Layering Basics
Put everything you've learned so far together and start layering stamps on top of each other!
08: Layered Cluster Practice
Let's create some fun, layered clusters!
09: Cluster, Stack & Collage - Part 1
Learn the basics of clustering, stacking and collage!
10: Cluster, Stack & Collage - Part 2
Let's create three more stamped, layered elements using everything we've learned so far!
11: Off Roading
Let's create some layered messaging by stacking sentiments!
12: Pop Of Floral
Create two different looks using the same elements on two different tags!
13: Umbrellas
Watch how Heidi creates two different tags with different technique using the same elements!
14: Mini Tags
Use what you've learned to stamp onto mini tags that are great for layering with larger tags!
15: Big Bday Tag
Collage, stack, cluster and build to create a large birthday tag!
view all